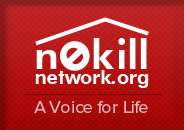 H.A.L.O. Rescue, Helping Animals Live and Overcome (Sebastian)
Visit
H.A.L.O. Rescue, Helping Animals Live and Overcome (Sebastian) >>
http://www.halorescuefl.org/ (report broken link)
We're all about helping the animals, We are the only no kill animal shelter in Indian River County.
H.A.L.O. Rescue was created so that people and businesses could become instrumental in helping abandoned and abused animals live the life of happiness, joy, and love for which they were intended. The funds raised from our Boarding, Grooming, and Boutique go directly and 100% into the care of our rescues. Through your continued support, not only are you leaving your pets in excellent care, but you are saving the lives of others!
Address:
710 Jackson Street,
Sebastian, Fl 32958 (across from WalMart™ on US1)
Phone: (772) 589-7297,
Fax:(772) 589-4403
Email:
[email protected]
Do you need to find a loving home for your pet?
No-kill shelters do wonderful work, but as a result, are often inundated with pet surrenders. In the unfortunate scenario that you have to find a new home for your pet, please read through the rehoming solution and articles on this page before contacting the shelter.