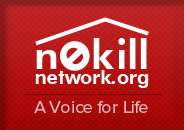 Pottawatomie County Caring Hearts Humane Society (Wamego)
Visit
Pottawatomie County Caring Hearts Humane Society (Wamego) >>
http://members.petfinder.com/~KS143/index.htm (report broken link)
PCCHHS was founded in June, 2005 by a group of citizens who were concerned for the welfare of homeless pets in the Wamego area. Since then, the organization has grown to over fifty members from all over Pottawatomie County. We are an all volunteer, non-profit organization working with many other local shelters and humane societies for the welfare of animals.

Our mission is to ensure that all dogs impounded receive proper medical care and are treated in a humane manner. We promote the adoption and fostering of dogs and cats who are homeless and/or not claimed by their owners.

We provide and organize volunteer services at the Wamego City Pound, such as helping to clean the kennel area, exercise the dogs daily and assist prospective adoptive families. We hope to train new volunteers in this area, as we only have a few prople providing these services at this time.
Do you need to find a loving home for your pet?
No-kill shelters do wonderful work, but as a result, are often inundated with pet surrenders. In the unfortunate scenario that you have to find a new home for your pet, please read through the rehoming solution and articles on this page before contacting the shelter.