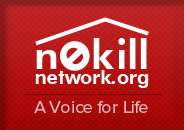 Kentucky Pets Alive originally (Shelby County No Kill Mission)
Visit
Kentucky Pets Alive originally (Shelby County No Kill Mission) >>
http://www.kypetsalive.org (report broken link)
The Shelby County No Kill Mission (SCNKM)works with the Shelby County Animal Shelter. Together we achieved No Kill status in May 2009 and have maintained it. It is a team effort! We believe that every animal that is not a threat to society and has a treatable condition deserves a chance to live in a forever home
SCNKM is a volunteer based group that depends on donations of time, money and supplies. We are a 501c3 group.
Address:
18 Village Plaza - Pmb 238
266 ky street
Shelbyville, ky 40065
Kelly jedlicki
[email protected]
[email protected]
Do you need to find a loving home for your pet?
No-kill shelters do wonderful work, but as a result, are often inundated with pet surrenders. In the unfortunate scenario that you have to find a new home for your pet, please read through the rehoming solution and articles on this page before contacting the shelter.