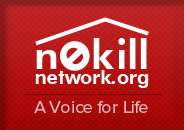 Teller County Regional Animal Shelter
Visit
Teller County Regional Animal Shelter >>
https://www.tcrascolorado.org (report broken link)
IMPORTANT NOTE:
Organizations listed in this directory are not no-kill shelters. For a list of NoKill Animal Shelters visit our
The shelter, a limited admissions facility, gives every animal that
enters its doors, the time, medical treatment and love it needs to be
ready for their next, happy phase. Some of the animals remain at TCRAS
for several weeks until the right family is found; some require hundreds
of dollars of treatment, like Spright, the stray pit bull mix with a
hopelessly damaged leg, who received surgery and weeks of foster care.
Then was adopted by a local vet and proved to be so charismatic, she was
elected Mayor of Divide by local voters when she competed against
several other Teller County pets.
Address: 308 Weaverville Road
Mailing: PO Box 904
Divide, CO 80814
Phone: (719) 686-7707
Fax: (719) 686-7428
Lisa Robertson
Executive Director –
[email protected]
www.tcrascolorado.org
Do you need to find a loving home for your pet?
No-kill shelters do wonderful work, but as a result, are often inundated with pet surrenders. In the unfortunate scenario that you have to find a new home for your pet, please read through the rehoming solution and articles on this page before contacting the shelter.