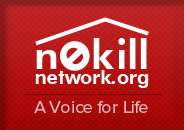 Yellowstone Valley Animal Shelter
Visit
Yellowstone Valley Animal Shelter >>
http://yvas.org/about/ (report broken link)
IMPORTANT NOTE:
Organizations listed in this directory are not no-kill shelters. For a list of NoKill Animal Shelters visit our
The mission of the Yellowstone Valley Animal Shelter is to provide shelter for animals in transition, serve as advocates for animals and their people, and be a leader in enhancing the human-animal bond.

Yellowstone Valley Animal Shelter is committed to the humane treatment of animals. We are considered an "open door" shelter. This means that we will turn no animal away that is from the city of Billings regardless of health, temperament or age. Because we understand that all animals come to us under the care and compassion of someone, we also are committed to the people involved in the care and welfare of these animals.




1735 Monad Rd
Billings, MT 59101


(406) 294 7387
Do you need to find a loving home for your pet?
No-kill shelters do wonderful work, but as a result, are often inundated with pet surrenders. In the unfortunate scenario that you have to find a new home for your pet, please read through the rehoming solution and articles on this page before contacting the shelter.