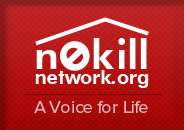 Woof! Meow! One thing before you go…
Do you need to find a loving home for your pet?
Shelters are often inundated with pet surrenders, and do not want to provide a simple outlet that takes away the obligation of responsible pet ownership. Therefore, they would prefer that people try hard to find a solution before resorting to surrendering their pet to a shelter. If you must find a new home for a pet, please try posting to our adoption portal before placing the burden on the shelter. Direct adoptions work well and allow everyone to share in the accountability of their community!

Hidden Treasures Adoption Center
Visit
Hidden Treasures Adoption Center >>
https://m.facebook.com/HTAdoptionCenter (report broken link)
IMPORTANT NOTE:
Organizations listed in this directory have failed verification by NoKill Network and may include shelters that promote euthanasia. For a list of NoKill Animal Shelters visit our
Our Mission
We are a foster-based rescue group dedicated to finding furever homes for all of our little hidden treasures. We strive to ensure that all adoptions result in optimal conditions for both the adopted feline and the adoptive owner/family. We will work with adopters to resolve any problems that may occur following an adoption.
Would you like to purchase a T-shirt, sweatshirt, pajamas, tank top, cap, mug, bag, keychain, water bottle, stickers, jewelry or one of many other items sporting our cool Hidden Treasures logos? Check them out at:
http://www.cafepress.com/htac
Adoption Policy
Hidden Treasures will be having ADOPTION EVENTS on Saturday, January 5 from 11-3 pm at Pet Supplies Plus, 2480 Albany Avenue in West Hartford, AND on Sunday, January 6 from 11-3 pm at Pet Supplies Plus, 471 Boston Post Road in Orange. Please stop by to meet our available kitties!
Anyone who is interested in adoption may send us an e-mail and request an application. We will process all applications that are received, and we will make a decision based on the applicant that is most suitable for any given pet-we do not work on a first-come-first-served basis. If the application is approved, we will make an appointment for the applicant to pick up their new family member. All adopters are expected to sign an adoption contract and pay a fee to help defray medical expenses incurred. Shipping animals unaccompanied is unpredictable and very stressful for the animals. Hidden Treasures will NOT ship pets under any circumstances. Adopters will pick up their pets in person and transport them directly to their new home in an appropriate pet carrier. Hard carriers are preferable to soft carriers with zippers. If the pet is being transported by air, adopters are expected to bring the pet on board the plane.
We also offer a "virtual shelter" service. If you have a feline that needs a new home, please send us an e-mail, and we can post them on our website and screen applicants to find an appropriate placement. We require three clear photos of each cat (including one frontal view of the face, and one of the entire body and head), any available vet records, and a description of each cat, including breed, sex, age, an explanation of any medical and/or behavior problems, reason for re-homing, and compatibility with other animals and children.
We would like to heartily thank PET SUPPLIES PLUS for kindly allowing our kitties to stay at the stores in West Hartford, Wethersfield, Orange, and Groton. The exposure is fantastic for the cats, and the staff members give them lots of extra attention. Pet Supplies Plus has been instrumental in placing many of our homeless cats and kittens over the past twelve years, six of whom were senior cats. Kudos to PET SUPPLIES PLUS!!
CONTACT:
P.O Boc 322
Berlin, Ct 06037
Email:
[email protected]
Do you need to find a loving home for your pet?
No-kill shelters do wonderful work, but as a result, are often inundated with pet surrenders. In the unfortunate scenario that you have to find a new home for your pet, please read through the rehoming solution and articles on this page before contacting the shelter.